Webcasts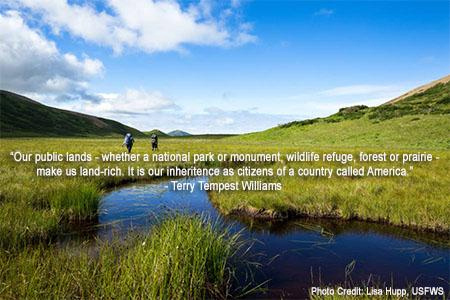 Great Outdoors LIVE featured two programs to learn about and celebrate the national treasure of our public lands.
CLICK HERE to watch "Great Outdoors LIVE: A Distance Learning Adventure", which was webcast live on October 2, 2019, from Shoshone National Forest near Cody, Wyoming. During this 54-minute program, learn about: Shoshone National Forest, the first national forest in the U.S.; the Greater Yellowstone Ecosystem; Golden eagles; the mules that help with maintenance in the National Forests; and the re-introduction of bison on Native American lands, and more!
CLICK HERE to watch the pre-taped video, "Great Outdoors LIVE: Yours to Explore". In this 34-minute video, journey with us from the backyard to the back country as we explore public lands. Learn about:
ecosystems – large and small
what public lands are and their importance
the history of public lands
natural resource careers
connections to indigenous peoples
balancing wildlife and human needs
Also, check out the web site and especially the LESSON PLANS about the great outdoors.
Learn about:
ecosystems – large and small
what public lands are and their importance
the history of public lands
natural resource careers
connections to indigenous peoples
balancing wildlife and human needs