Experts
Meet the Presenters on the Live Program
Amtchat Edwards, Education Specialist, USDA Forest Service
Amtchat will be the host of Great Outdoors LIVE: A Distance Learning Adventure. He works in Conservation Education and has over 20 years of environmental education experience with grades K-12, their educators, and the public. He works to blend entertainment, education, and calls-to-action, serving to deepen people's connection to nature and to each other.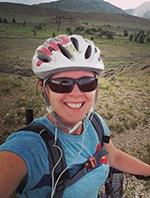 Kristie Salzmann, Public Affairs Officer, Shoshone National Forest
Kristie, who grew up in Wisconsin but now calls Wyoming home, loves being active and doing anything outdoors. She prepares press releases and responds to media and public inquiries associated with all aspects of the forest.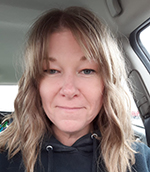 Melissa Hill, Live Raptor Program Manager, Draper Museum
Melissa Hill is the Live Raptor Program Manager for the Draper Museum Raptor Experience at the Buffalo Bill Center of the West in Cody, Wyoming. Her passion is to help others understand the beauty and importance of raptors and all wildlife so that they may inspire others to care a little more about the world around them.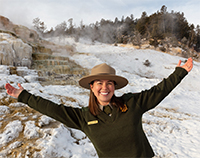 Heather Basak, National Park Service, Yellowstone National Park
Originally from Texas, Heather Basak has moved around the country working for and enjoying America's public lands. She has been working and living in Yellowstone National Park for the past three years. Heather cannot wait to share her love for this beautiful place with you!
Great Outdoors LIVE Experts Answering Your Questions on October 2!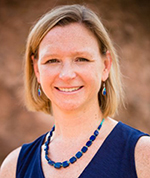 Cyndi Szymanski, Lakewood, Colorado
Cyndi is passionate about connecting people with nature. She has done so for over 20 years in her personal and professional life. Currently Cyndi works with the US Forest Service's Job Corps program as a Natural Resource Liaison. This job entails connecting Job Corps students with unique working, learning, and employment opportunities with the U.S. Forest Service.
Prior to this job Cyndi consulted to the National Park Service working on issues of Inclusion and Diversity, Workplace Enrichment and Leadership Development. As a National Park Service employee, Cyndi worked with the Rivers, Trails and Conservation Assistance Program helping to develop natural, cultural and recreation experiences in local communities throughout the United States. Cyndi was an Environmental Education Volunteer in Morocco with the Peace Corps and has worked as a park interpreter. She continues all of this interest on a personal level exploring outdoor places with her husband and children anywhere interesting they can find.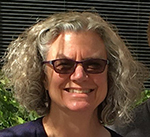 Shelly Witt, Seattle, Washington
Hi - I'm Shelly Witt! I've worked for the U.S. Forest Service for more than 30 years and lived in Washington, D.C., Utah, and Washington (the state). I work with colleagues developing and delivering natural resource training, and I manage our staff websites. I have a BS degree in Horticulture/Integrated Pest Management (Oregon State University) and MS degree in Forestry (Utah State University). Things that spark my joy (when I'm not busy providing great training): being on or in water (fresh or salt), sailing, reading, playing with family (including dog & cat), gardening, bugs, birds, biking, baking cookies and cakes … and eating those delicious C&C.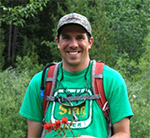 Tyler Johnson, Lakewood, Colorado
Howdy all, my name is Tyler Johnson and I am a botanist, which if you don't know means that I am a scientist that works with plants. I have worked for the Forest Service for 10 years in Arizona, New Mexico, Wyoming, and Colorado. My dad also worked for the Forest Service as did my Grandpa, that makes me a 3rd generation Forest Service employee and makes caring for the land and serving the people our family business!
My work focuses on keeping extremely rare plants alive in our National Forests and National Grasslands. Some of the plants I work with live only on one mountain-top or next to one river and nowhere else in the world! I care deeply about public lands, having grown up with them as my backyard. Public lands as they exist in the United States are an amazing and unique opportunity for you to recreate on and use the lands that we all share. Ask me about baseball, plants of any kind including trees and grasses, ecology, gardening, disc golf, and mountain biking!
Tammy Fletcher, Missoula, Montana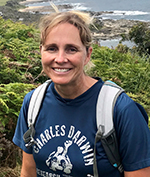 Hello, I am Tammy Fletcher. I am a Wildlife Biologist and I have had a great 22-year career working for the Bureau of Land Management and U.S. Forest Service. My career has allowed me to work and live in New Mexico, Utah, Idaho, and now Montana. I really enjoy improving and conserving habitat for all wildlife species, including carnivores, big game, birds, amphibians, reptiles, and bats. The most rewarding work is working with state wildlife agencies and other conservation groups to combine funds and information to improve the largest areas possible for many wildlife species.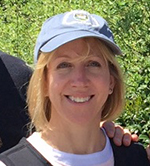 Dr. Kimberly Winter, Washington DC
Hi! I'm Dr. Kimberly Winter and I'm the NatureWatch National Program Manager for the U.S. Forest Service in Washington, D.C. I earned a Ph.D. in Wildlife Ecology and Management and a master's degree in Ecological Anthropology, and I enjoy seeking ways to bring the value of conservation to the public eye by promoting opportunities for general audiences to immerse themselves fully in nature. We do this through special events like Pollinator Week and Bat Week, programs such as freshwater snorkeling in streams and citizen science volunteer engagement, and sharing educational resources like the FSNatureLIVE Distance Learning series and the NatureWatch website (www.fs.fed.us/naturewatch). I spend as much time as possible outdoors with my daughter, dogs, garden, animals, and beehive.
Dennis Krusac, Atlanta, Georgia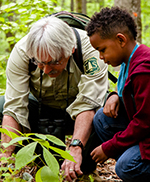 Dennis Krusac has worked for the USDA Forest Service as a wildlife biologist for 39 years, having worked in Ohio, South Carolina, Tennessee, and Georgia. He is currently a Regional Endangered Species Specialist and Pollinator Conservation Coordinator for the Forest Service Southern Region. Dennis is co-developer of the Great Atlanta Pollinator Partnership, an award-winning model for urban conservation. He has a passion in educating today's youth about the environment and routinely works with inner-city minority youth on conservation education programs. In 2017, Dennis received a lifetime achievement award from the Southeastern Bat Diversity Network and Lloyd W. Swift Sr. award for a lifetime of dedication, commitment,and leadership in management of the wildlife and fisheries resources of the United States from the USDA Forest Service.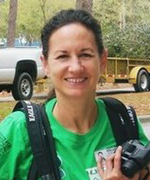 Annie Hermansen-Baez, Gainesville, Florida
Hello friends! My name is Annie Hermansen-Baez and I've worked with the Forest Service for over 20 years. I started with the Forest Service in Athens, GA but I have served most of my time where I currently am in Gainesville, FL. I work with research scientists, teachers, students, and other partners to communicate science findings and the benefits of time in nature and I also develop programs to teach youth about the outdoors. I have a bachelor's degree in Biology from the University of California, Santa Cruz and a master's degree in Forest Resources and Conservation from the University of Florida. I love spending time outdoors with my husband and two teenage sons and my labradoodle, Leo.
Apple Snider, Albuquerque, New Mexico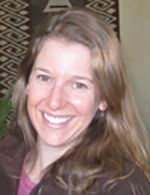 Greetings from Albuquerque, New Mexico! I'm Apple Snider. Can you guess how I got my unique name? I'm the education coordinator for the Southwestern Region of the USDA Forest Service—that includes 11 beautiful national forests and grasslands in Arizona, New Mexico, western Texas and Oklahoma. My favorite part of my job is connecting people to nature. I do this by supporting programs like Every Kid Outdoors and working with groups that help kids and adults appreciate nature and conservation. My dream is for everyone to be able to play and learn outside and to understand how important public lands are to making forests, watersheds and people healthy and happy. I've been fortunate to work outside on public lands in Vermont, Hawaii, California, Arizona, New Mexico, and Colorado, where I earned a master's degree in ecology studying bats. I love sitting outside to watch the sunset and searching for the first bat to fly across the evening sky!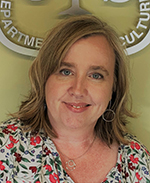 Annette Heckart, Anchorage, AK
Hello from Alaska! I'm the program manager for interpretation and conservation education for the Alaska Region of the Forest Service. I've worked in the Alaska Region for 27 years! I grew up in Georgia and first came to Alaska in 1992 - right after college. I was so blown away by the grandeur of this state that I decided to make this amazing place my new home! I love my job because I get to be creative and work with people of all ages to help them discover and learn about the many wonderful things to see and do on our national forests in Alaska.
Emily Weidner, Washington, DC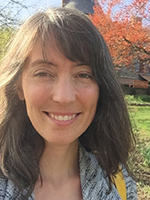 I'm an Ecosystem Planner at the U.S. Forest Service and help implement policies to make sure we have a plan to protect at-risk species on every national forest. I have a bachelor's degree in botany and environmental studies and a master's degree in environmental management. Even though I live in the middle of a big city, I love being outside. I ride my bike to get around, grow vegetables and flowers in a community garden, and go exploring in DC's many urban parks!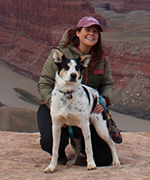 Kelsey Bean, Custer, South Dakota
Hello from South Dakota! I've worked for public lands for many years doing a variety of jobs -- such as catching endangered black-footed ferrets in South Dakota to teaching visitors about cliff dwellings in southern New Mexico, and a few other places inbetween. Originally from the Ozarks of Arkansas, I now work for the Black Hills National Forest in Custer, South Dakota where I work in forest products and timber sales. I also do a lot of community outreach and educational programs for the forest, which is my favorite! I have a bachelor's degree in Natural and Historical Interpretation and a graduate certificate in Native American Studies. I love sharing my passion for our public lands with others! I also have the cutest hiking buddy ever, my dog Alma!
Thea Garrett, Albuquerque, New Mexico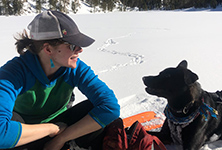 I live in Albuquerque, New Mexico and I work for the USDA Forest Service as the Youth Engagement Specialist. A big part of my job is connecting youth with the 11 National Forests and Grasslands throughout the Southwestern part of the United States. I have worked as an environmental educator with young people across the country, in places ranging from the Atlantic Ocean in Maine, all the way up to the Arctic Ocean in Northwest Alaska. One of my favorite things to do outdoors -- in the mountains, the forest, or in the city -- is to bring my sketchbook and draw the plants and animals that I see. What are some of your favorite ways to get outside?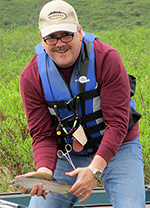 Dave Schmid, Juneau, Alaska
Greetings from the Great Land! I'm Dave Schmid and I'm the Regional Forester for the Alaska Region of the U.S. Forest Service. We steward the nation's two largest national forests -- the Tongass National Forest in southeast Alaska, and the Chugach National Forest in southcentral Alaska. These two, vast public lands cover more than 24-million acres, an area about the size of the state of Kentucky! It's an environment where the forests meet the ocean – our national forests provide homes for humpback whales, brown bears, bald eagles, salmon – and diverse, natural resource dependent-communities.
I graduated from the University of Wisconsin-Stevens Point with a degree in forest management, and I've worked for the Forest Service for more than 30 years. I've lived and worked in Minnesota, Alaska, Montana, Washington DC, and Georgia – and wherever I've been, I've been a passionate advocate for helping Americans connect with THEIR treasured public lands. In my free time, I love to hunt, fish, and explore new places and new cultures with my family.
Dr. Johanna Kovarik, Prineville, Oregon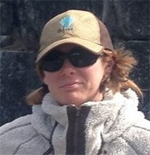 Hello Everyone! I've worked for the Forest Service for over 15 years, and I just recently became a District Ranger on the Paulina Ranger District of the Ochoco National Forest in Central Oregon. We have a unique volcanic landscape full of wilderness, wild and scenic rivers, and tons of space for you to come hike, bike, hunt, fish, paddle, and explore! I become fascinated with public lands through the portal of caves – I was a Student Conservation Association intern with the National Park Service at Carlsbad Caverns. Through working on the Tongass National Forest in southeast Alaska as a hydrologist and geologist, I became interested in the dynamics between people and underground resources. Following that interest, I did a Masters in Geoscience, and went on to get a PhD in Geoscience and Environmental Science and Policy. I have gotten to study caves in Mexico, China, the Philippines, and tons of cool places in the U.S. on public lands. Often you will find my husband and I caving, but when we are on the surface we enjoy climbing, skiing, gardening, and hanging out with our two cats, Franklin and Percy.