Webcasts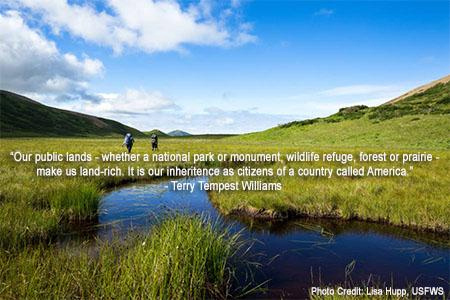 Join us in September 2019 on a journey from the backyard to the back country with Great Outdoors LIVE. This distance learning adventure is geared toward students in grades 4 to 8 but is appropriate for anyone with an interest in public lands, ecology, and the importance of balancing wildlife and human needs.
There will be two webcasts as part of this distance learning adventure.
FIRST, watch a pre-taped video to be available in September 2019 about the national treasure of our public lands.
THEN, on October 2 at 11 a.m. MT 11 a.m. MT (1 p.m. ET / Noon CT / 11 a.m. MT / 10 a.m. PT) participate in a LIVE, INTERACTIVE webcast with scientists and others about public lands. We'll be coming to you LIVE from Shoshone National Forest – the first national forest in the United States – located near Cody, Wyoming and Yellowstone National Park.
Learn about:
ecosystems – large and small
what public lands are and their importance
the history of public lands
natural resource careers
connections to indigenous peoples
balancing wildlife and human needs
Multiple viewing options are available for you to watch and participate in Great Outdoors LIVE: Yours to Explore, so choose the best way for you: